Quick Tips to Remodel Your Home
Home remodeling can be both an exciting and intimidating task. Remodeling your home can be daunting, especially if this is your first time doing it, even though the idea of building your ideal home is thrilling. However, there are a few pointers and strategies you may keep in mind to simplify and streamline the procedure. Here are some quick ideas in case you are going to get home remodeling service.
Plan a Budget
Budgeting is the first and most crucial step in any home remodeling project. It is simple to get carried away and overspend without a budget. Make sure to consider your financial situation before deciding how much you can afford to spend on your renovation project. This will enable you to plan your requirements and desires and keep you on track during the home remodeling process.
Plan Ahead
Planning before you start pulling up flooring or demolishing walls is crucial. A thorough strategy for your remodel that includes a timetable, budget, and design is required. Think about collaborating with home remodeling contractors who can assist you in developing a thorough plan of your home remodeling project. In that way, all the process will be streamlined and there will be no surprises.
Focus on Functionality
While remodeling your home, it is critical to prioritize functionality. This means designing your space to maximize its potential and meet your needs.
Think about how you use your space daily and how it flows. Consider how you can make your area more practical and efficient.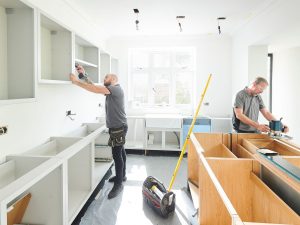 Think About Energy Efficiency
While upgrading your home, energy efficiency is a crucial factor to consider. By doing this, you can save your energy costs by choosing materials and appliances that are energy efficient. To further increase your home's energy efficiency, consider replacing your windows, installing a smart thermostat, or adding insulation.
Hire Experienced Home Remodeling Services
The remodeling process can be streamlined and made more accessible by working with a construction company having expertise in home remodeling and renovation. These professionals can assist you in developing a plan, choosing materials, and supervising the building process to ensure your renovation is completed on schedule and within your budget. Do your research and choose a trustworthy business with expertise in the remodel you are considering.
Remember the Details
It is simple to get distracted by the big picture when remodeling your home and ignoring the minor details. A burst of color can be added with an accent wall, new hardware, or distinctive lighting fixtures. But little information often has the most impact on the way a room looks and feels.
Be Ready for the Unexpected
When upgrading your home, being ready for the unexpected is crucial. This entails being flexible with your timeframe and setting aside additional funds in your budget. You must leave room in your plans for obstacles, as unforeseen problems can occur during construction.
RDK is one of the leading construction companies in Mobile, Alabama. When it comes to home remodeling services, RDK is at the top of the game. Reach out for consultancy and get started with your dream home today.